PhD in theatre studies and additional degrees in theatre, film and media
studies as well as journalism and communication science from the University
of Vienna. Research on contemporary Dutch theatre, lecturer at the University of Vienna – Institute of theatre studies, public relations work for independent theatre groups in Vienna, eight years of freelance work with the Filmarchiv Austria in Vienna and editor of the journal Filmkunst. Many years of research on the British painter and filmmaker Derek Jarman, publication of Derek Jarman – Moving Pictures of a Painter. At the same time, intensive involvement with graphic design, numerous design works in the years that followed. Early 2000, founds a business, since that time freelance work in the areas of graphic design, project development and urban photography. Member of the International Visual Sociology Association.
facebook.com/martinfrey.vienna
In recent years, numerous documentary and urbanistic photo projects about Vienna:
Shops with history – sundry goods in Vienna
Photographs of old shopfronts and businesses in Vienna. In collaboration with Philipp Graf, traditional Viennese storefronts currently in the process of disappearing are captured on film, together with their displays. (2011 – present)
Shops with history – sundry goods in Vienna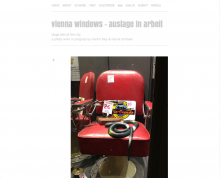 Vienna windows – Display in Process
An artistic and urbanistic project in collaboration with Hanna Schimek on the enigmatic displays of still-existing or already-closed businesses in Vienna. Publication in the form of a photoblog in progress (2011 – present)
Vienna windows – Display in Process
Vienna Südbahnhof
A documentary photographic work and virtual reminder of Vienna's Südbahnhof, the rail station demolished in 2010 in order to make way for the construction of the new Hauptbahnhof. In collaboration with Philipp Graf, 2008 – 2010.
Vienna Südbahnhof
Air-raid cellars
A photographic hunt for traces of the markings related to these air-raid shelters, which were placed on the facades of Viennese buildings during the Second World War.
(1992 – present).
Air-raid cellars
Döner macht schöner (with kebab you'll need no make up)
In 2009, this long-term project was begun; it explores changes in the appearance of Viennese (shopping) streets deriving from the opening of new businesses and establishments by immigrants from Turkey and Eastern Europe.
Döner macht schöner
Die Billigesser – The cheap-eaters
This project was inspired by the novella of the same name by Thomas Bernhard. A hidden camera (a Nokia 6230i mobile phone) was used to create short photo stories about public canteens in Vienna and Berlin, some of which no longer exist. The series was originally published as a photoblog on myspace, in collaboration with Helmut Mörwald, 2006 -2008.
Die Billigesser – The cheap-eaters
EXHIBITIONS, PROJECTS AND PUBLICATIONS (SELECTION):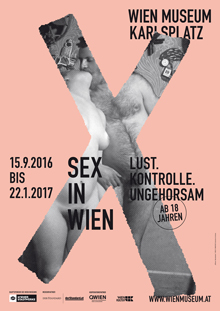 Sex in Wien – Lust. Kontrolle. Ungehorsam
Participation in the exhibition at the Wien Museum:
Wien Museum
Karlsplatz 8
1040 Wien
15. September 2016 bis 22. Jänner 2017
www.wienmuseum.at
In cooperation with the magazine Stadtform nine photographs from my series Ring My Bell – Doors into the gay nightlife of Vienna in the 1980s are shown at the Wien Museum during the exhibition Sex in Wien – Lust. Kontrolle. Ungehorsam:
The totally eleven photographs from this series were shot in 1989 with an analogues Olympus OM 20 Kamera on Ilford HP5 Film. Now they were scanned on a high end scanner and digitally remasterd for the magazine print and the fine art prints.
Participation on the Walk of Art 2016
Walk of Art 2016
October, November 2016
From nightfall:
1050 Vienna, Rechte Winzeile 2A
1150 Vienna, Linke Wienzeile,
near Längenfeldgasse / Stiegergasse

Eight photographs from the project Vienna Windows – Auslage in Arbeit, from Hanna Schimek and me, are shown on two big wall screens.
Participation on the YOUR VIEWS film project by Gillian Wearing
The University of Brighton Gallery, Grand Parade, Brighton
30. April – 29. Mai 2016
HOUSE 2016 Festival
At the invitation of the British artist Gilllian Wearing I participate with a short film clip on her collaborative film project Your Views. The first run of this work will be at the HOUSE 2016 Festival, on the occassion of the 50th anniversary year of Brighton Festival in May 2016. Brighton University Galleries presents the work in the form of a video installation and exhibition.
Gemeinde Bau Kunst Exhibition
Galerie West 46, Vienna
20.1.2016 bis 28.1.2016
As part of a photo competition on the subject of municipal housing 14 winners were chosen from over 260 submissions selected, including three of my works to my theme Municipal housing – Green oases of the city.
Vienna – City of Lights?
An interactive media project carried out for the magazine stadtform.
June – October 2015
stadtform, Vol.1, October 2015
and online at www.stadtform.at/lichter
Martin Frey and Philipp Graf dive into the nocturnal Bermuda Triangle, the most well-known nightlife district of Vienna, which is located between Rabensteig, Seitenstettengasse and Judengasse up to Ruprechtsplatz. Lighting and neon signs show them the way, they drift associatively through the dark streets of this area. They explore photographically what types of lights show them the way and how they perceive these. Lisa Puchner accompanies the two on their research journey through the night and records the surroundings of each station acoustically.
Participation in the exhibition EXPOSED – Exploring the Roots
Galerie West 46, 1070 Vienna
7. 4. 2015 – 19. 4. 2015
On the occasion of the Worldwide Pinhole Photography Day the exhibition EXPOSED – Exploring the Roots presents alternative and historic processes in artistic photography. As part of this exhibition I present my Polaroids Vienna Alsergrund which were selected from more than 500 entries. They were taken 2011 with original Polaroid© film from 2008 and are a commentary on my project Shops with history – sundry goods in Vienna.

Exhibition in the Wienbibliothek im Rathaus (Vienna City Library):
Vienna Windows – Display in Process
27. 10. 2014 – 31. 1. 2015
A selection of photographs will be shown as a projection, a spatial installation establishes associative references to the projected images. In a showcase of the reading room, the librarians of the Vienna City Library stage together with the two researchers a "display in process".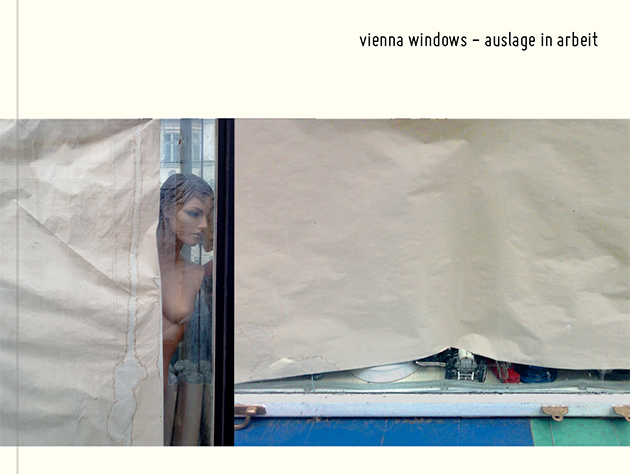 Artistbook "Vienna Windows – Auslage in Arbeit"
This book was published in the context of the exhibition "Vienna Windows – Display in Process", which is presented from October 2014 to January 2015, in the Wienbibliothek im Rathaus (Vienny City Library):
92 pages, color, 80 photographs, 210 x 145 mm, EUR 15,-
plus shipping costs EUR 8,-
Payment by PayPal or creditcard

It has snowed since you were here, and your tracks are covered.
About the exhibition Derek Jarman. Brutal Beauty at Kunsthalle Wien, 2008
In: ray – filmmagazin, 07/08-2008.
http://www.ray-magazin.at/magazin/2008/0708/derek-jarman-eine-austellung
"Hier wird nichts durch die Blume, sondern alles durchs Geschlecht gesagt."
Die visualisierten Partituren des Paolo Mezzacapo de Cenzo.
In: SMELL IT! Freundschaft als Lebens-, Produktions- und Aktionsform.
Hrsg.: Dietmar Schwärzler, Wien 2009
http://www.smell-it.org/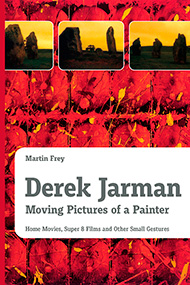 Derek Jarman – Moving Pictures of a Painter
Home Movies, Super-8 Films and Other Small Gestures
Publication about the English painter, film-maker and writer Derek Jarman (1942 – 1994) and his lesser known home movies, Super 8 Films and the cinema of small gestures that developed out of them.
Derek Jarman – Moving Pictures of a Painter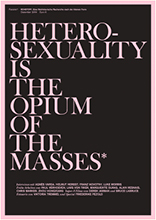 "There's no place like the Home-Movie…"
Derek Jarman's Home-Movies und Super-8-Kurzfilme
In: ROHSTOFF. Eine filmhistorische Recherche nach der kleinen Form. Fanzine 1, Dezember 2004.
http://www.rohstoff-filmmagazin.org/rohstoff_1.html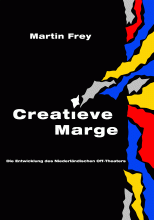 Creatieve Marge
Die Entwicklung des niederländischen Off-Theaters
Study on the emergence of the Dutch off-theater in the second half of the twentieth century.
Creatieve Marge – Die Entwicklung des niederländischen Off-Theaters
Copyright:
© Martin Frey 2008 – 2016. All rights reserved.
All of the content of this website is protected under copyright. Any form of further use without the written permission of the creator is prohibited. Individual projects are additionally subject to different copyright regulations: please refer to the given project pages to find these. If you would like to make use of content, ask me about it – preferably by email.
The copyright of third parties has been regarded during the creation of this website, in particular, content created by third parties has been identified as such. If you should nonetheless notice a breach of copyright, I ask you to please bring this to my attention. In the case of such a breach, I will remove the corresponding content.
Legal notice:
Dr. Martin Frey
photo graphic research
Himmelpfortgasse 5
A-1010 Wien – Österreich
Telefon: +43 1 512 61 69
Fax: +43 1 513 14 19
Email: mail AT martinfrey.at
Translation into English:
Michael Wetzel
Foto: Philipp Graf
Merken
Merken
Merken